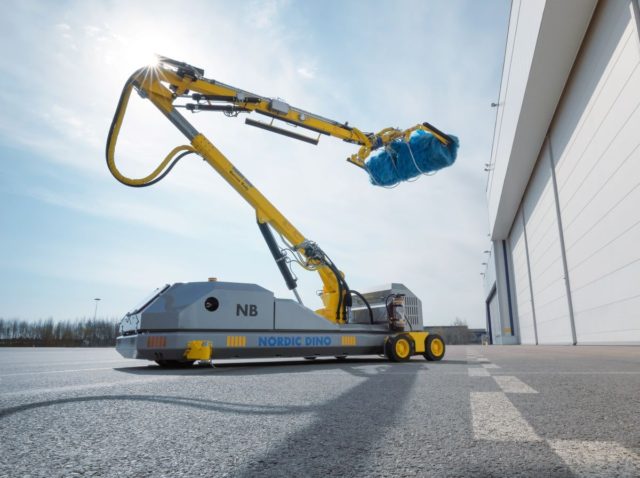 Several commentators have described 2021 as an Annus Horribilis for the aviation industry. However, despite the unfavourable business conditions, many forward-thinking industry players have used the enforced downtime wisely and focused on a brighter, more progressive future.
Aviator Robotics AB, the designers and manufacturers of Nordic Dino – an advanced semi-automated aircraft exterior cleaning technology – and a family member of Avia Solutions Group, have used 2021 to concentrate on future strategies, most notably in the sustainability sector.
According to Jan Brunstedt, the CEO of Aviator Robotics AB, "2021 was a slow year for sales, our company's customers who were suffering from the restrictions of a global pandemic put a halt on purchasing and procurement. During this time, both airlines and handling agents suffered from a downturn in traffic numbers and potential income possibilities. However, as the year turns from 2021 to 2022 the new year brings brighter news and a cause for cautious optimism across the industry, most notably in the US market."
While 2021 offered fewer opportunities for instant growth, the Nordic Dino owners used their time and wealth of experience to acquire a hugely valuable ISO Certification. Additionally, the company approached their major customers to offer upgrades to their existing equipment's software. This offer, despite the circumstances affecting the entire industry, proved a successful gambit with several of the company's customers who were also in the process of planning for a brighter future.
One major achievement for Nordic Dino came as a blessing in disguise. With an over-capacity of engineers on their books, their expertise was redeployed towards developing the existing machinery and technology to offer more sustainable aircraft exterior cleaning solutions for an industry demanding change in future environmental-facing practices.
As the year rolls around, a new and innovative technology is currently under design and development by the company in the Swedish capital, Stockholm, before being unveiled to the industry. According to Brunstedt, "The focus of this entire project will be the launch at GSE Expo Europe, due to take place from 13-15 September 2022 at Le Bourget Airport, Paris.
As one of the ground handling industry's most significant global events, with a keen focus on product innovations and new technologies, the sustainable properties of the new innovation will be presented to a dedicated forum of industry stakeholders and frontline users.
In addition, and as if to highlight the fact that the company has not been resting on its well-deserved laurels and will present an upgrade to the Nordic Dino Electric Version's batteries this summer. The battery upgrade – which is CE Certified – promises to prolong the machinery's operation time by as much as two times, meaning less downtime and offering the potential for greater sustainability.
In another development for 2022, coming on the back of the already visible upturn in US aviation, Nordic Dino is in direct negotiations with US ground handling agents and airline cleaning companies. Across North America there is a tendency by airlines to outsource washing services to external handling agents, making it an ideal time for Nordic Dino to promote its presence in the market. As a deal-sweetener, Nordic Dino may also offer a financing programme for prospective clients, along with supplying training programmes for US operators of its equipment.
While the industry as a whole has faced major challenges throughout 2021, the new year already offers the prospect of new beginnings and strengthened relationships. After an association spanning over 1.5 years as a family member of Avia Solutions Group, both parties have grown significantly and the full value of the relationship has been understood in ways that promise a brighter and more progressive future.
According to Jan Brunstedt, "The aviation industry is experiencing a time of great change while offering greater opportunities to take advantage of that change. During that time, our relationship with ASG has gone from strength to strength, and the importance of being part of a global network can never be understated. While 2021 may have seemed like a blot on the ledger, through greater cooperation Nordic Dino are poised to deliver exciting new products and sustainable technological solutions to the global aviation industry."